Buddy Program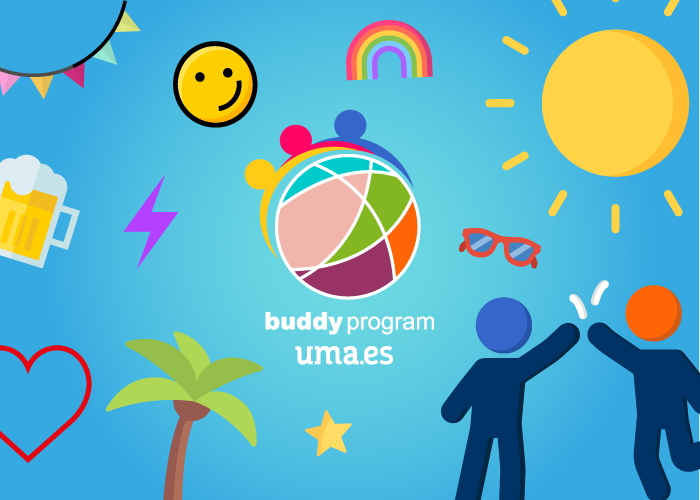 The BUDDY Program aims to integrate the foreign student into the Malaga university way of life. Academic tutoring is not sought, but support in conducting administrative management, such as virtual campus, options to travel to the campus, cultural offer and leisure activities at theUMA and the city.
How can I participate?
1. Fill out the registration form
Fill out one of the following forms:
Once we have received your application, you will become part of our database for the 2019/2020 academic year.
Please, check your contact information. Take into account that it will be used to get in touch with your Buddy.
2. Buddy assigning
After that, we will check your information to assign you a Buddy, depending on your study centre, the languages you speak and the duration of your participation in the Buddy Program.
3. Chosen partner
Both of you will receive an email with your partner's name, email address and telephone number. From this moment on, you have to contact your Buddy to start participating in the program.
4. Arrival at the UMA! Participation Commitment Document
Once you get in touch with your Buddy, you must sign the Participation Commitment Document. The signing of the document will allow you to participate in the Buddy Program.
By signing this document, you agree to:
▶ Submitting a monthly report of the activities and actions carried out with your BUDDY. You can fill out the monthly report on the following link: MONTHLY REPORT
▶ Participating in the activities organized by the Welcome to UMA Office for this program.
▶ Carrying out the Buddy obligations included in the program.
ACTIVITIES
The students who participate in the Buddy Program have priority in the free activities organised by the Welcome to UMA Office. These include language exchanges, guided visits to museums, trips within the province of Málaga, cooking workshops, flamenco masterclasses etc.
Contact information:
Telephone number: (+34) 951 95 31 26

LEAFLET (PDF)