The Venues
InterDisciplinarity: Conceptual Explorations
21st International Conference on the History of Concepts
University of Málaga, 25–28 September 2018
At the University Main Campus

The conference will take place at Teatinos Campus of the University of Málaga, located some five kilometres from the city centre (Alameda Principal-Calle Larios).
There are two venues:
Site 1: Aulario IV (Prof. Juan Antonio Ramírez), where regular sessions and meeting rooms are held and a publications display room is arranged.
Site 2: Salón de Grados María Zambrano, where plenary sessions are held.
Both venues, based at Teatinos Campus, are separated from each by about two hundred metres crossing Albert Einstein street
See sites 1 and 2 on the map below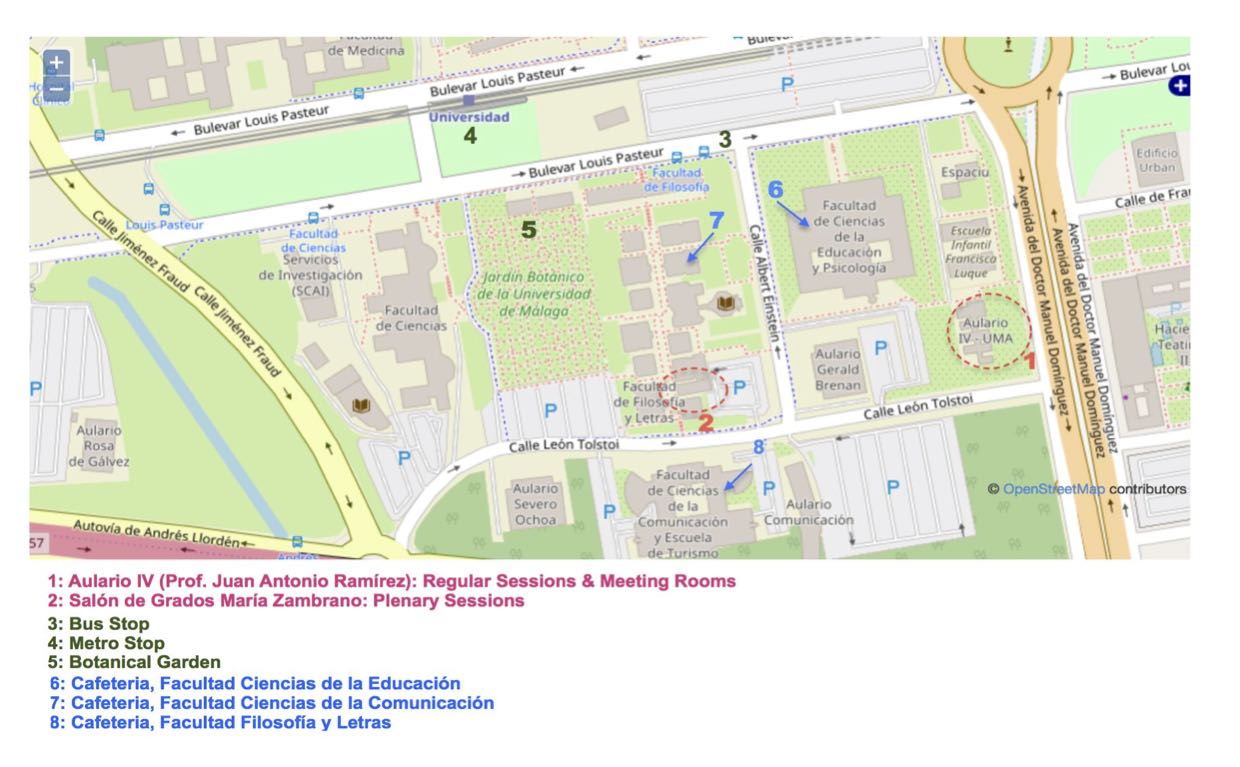 Directions from Downtown Málaga to Teatinos Campus

The easiest way is by bus, taking bus line 11 from any of the stops in the city centre, for example, Paseo del Parque-Ayuntamiento, Paseo del Parque-Plaza de la Marina, Alameda Principal-Sur and getting off at the Facultad de Filosofía y Letras stop, Bulevar Louis Pasteur south side (location 3 on the map).
See this link to the itinerary
Regular ticket costs 1.30 € (drivers cannot accept bills greater than five euros); a ten-ride card costs 8.30 € (it can be purchased at kiosks and newsstands).
It is also possible by metro line 1 from the main railway station (less than one kilometre away from downtown), María Zambrano Station, El Perchel stop, to the Universidad stop (Bulevar Louis Pasteur north side (location 4 on the map).
See this link to the itinerary
Occasional ticket costs 1.35 €, and the card 0.30 €; up to 9 trips can be charged and it is rechargeable at the ticket machines.
A taxi ride can cost a minimum of 10 euros.