7th Transatlanctic Tribune
THE EXPLORER WOMEN OF THE NEW WORLD
María Zambrano Center for Transatlantic Studies UMA-ATECH has celebrated on 23th January 2019 at 12 am in Maria Zambrano's Graduation Hall of the Faculty of Philosophy and Letters, its 7th Transatlantic Tribune "The explorer women of the New World", in which the women's role in the world of exploration and the different concepts were analysed, as well as the reason that pushed them to travel and explore.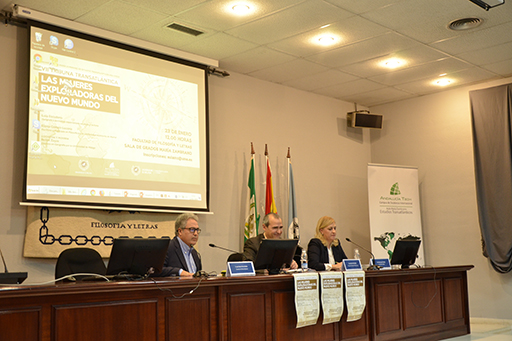 The event was inaugurated by Juan Antonio Perles, the Dean of the Faculty of Philosophy and Letters; Juan Antonio García Galindo, the Director of AMZET; and Belén Zayas Fernández, of the University of Málaga who has coordinated the activity. During the opening of the event, García Galindo he expressed the importance of this topic "at this time when we're trying to make visible the figure of woman in every walk of life". A matter in which "you can't take a step back" and about which he stated that "the University has the role of contributing to that visibility since history has been seen from an androcentric perspective marginalizing women". For her part, Zayas was "very happy" that the activity took place in Philosophy and Letters and above all "for the variety of students from different specialities such as Geography, History, or Philology that the 7th Transatlantic Tribune has managed to bring together".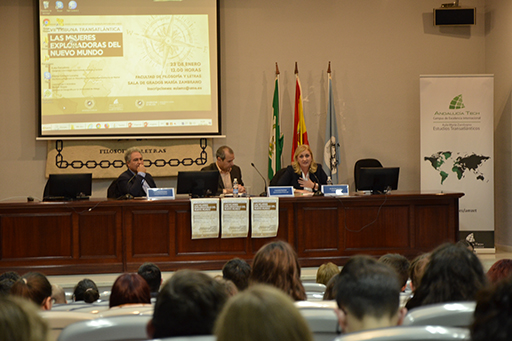 This workshop has the vision of two analysts: Eloisa Gómez-Lucena, writer and a graduate in Philosophy by the Autonomous University of Madrid; and Lola Escudero Pérez, geographic and specialized journalist in travels and tourism, who have remembered the role of women in the world of exploration in general and the different models of women travellers, as well as the reason that pushed them to travel and explore.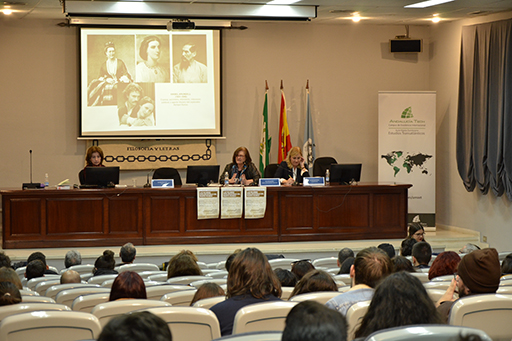 Gómez-Lucena was the person who started the activity reviewing some of the 38 female biographies collected in her essay Spanish women in the New World. During her talk, she cited some relevant figures such as the Inés Suárez from Extremadura; Catalina de Erauso, known as "La monja alférez"; or Catalina Vadillo from Granada, also known as "La Maldonada". Women, who belonged to different social classes and who, during the first two centuries of American colonization, left Spain for the New World.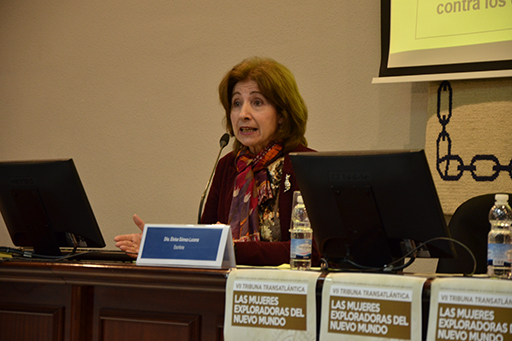 Finally, Escudero explained the context "in which we have to see these explorers", clarifying that "despite the fact that there were few women travellers during this time", the period in which most women have carried out these tasks "is at the moment of the conquest, exploration and colonization of the New World". Also, she has cited the Atlas of the Spanish Explorers, an encyclopaedic and informative work that recovers the history of our great travellers, both famous and unknown, coordinated by the Spanish Geographic Society.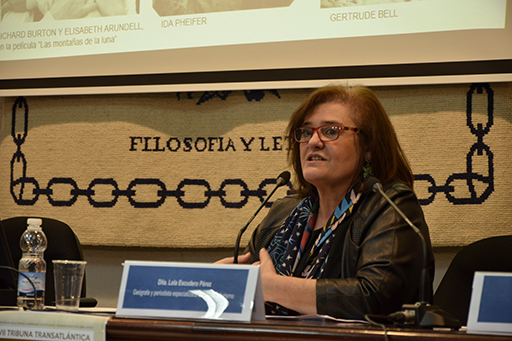 Program of the 7th Transatlantic Tribune (Spanish)
Picture Gallery of the 7th Transatlantic Tribune